Tips
_______________________________________


_____________________________________
Position Your Pattern
To concentrate on your scrollsaw technique, put a clear pattern on your wood piece to reduce any distractions. You can copy the outline onto the piece with transfer paper and apply the pattern with rubber cement, spray adhesive, or repositionable spray glue.
Joanne recommends removing the dust from your wood piece, then spraying the pattern — not the wood — with repositionable glue. (She uses Ridlen All-Purpose Glue.) Spray lightly; if your pattern becomes transparent, you've applied too much glue.
Once you've transferred your pattern, try cutting multiple shapes from 1/8″ stock. Stack 4 to 6 wood pieces that are slightly larger than the shape you plan to cut. Wrap masking tape around the outside edges of the stack, overlapping the tape ends firmly. Then once you've cut the wood pieces, simply remove the tape.
Don't Take It Sitting Down
Unless you're an experienced woodcutter, always stand directly in front of your saw. Don't move off to the side of the saw as you work; it's easier to feed the work straight into the blade. Also, keep a fluorescent light at one side of your saw. The light will prevent shadows on your cutting area. And lways wear a dust mask.
Make Blades Your Business
After extensively testing all blade sizes on 1/8″ wood, Joanne finds she prefers a #3 double-tooth blade. Blade sizes #4 to #6 work best for 1″ stock. A double-tooth blade will produce less chip-out on your wood piece, and will last longer than other blades.
To install your blade, make sure the teeth face you and point downward. A blade installed backwards won't cut wood, and an upside-down blade will pick your wood up off the table bed and slap it back down again. You'll notice sawdust on the top surface of your wood piece, not on the bottom, if the blade is upside down. For proper blade tension, insert the blade and turn the tension knob three-quarters of a turn past the point of resistance. A blade that's too loose won't cut a straight pattern line, and a blade hat's too tight will break and possibly damage your saw.
Hold On to Your Hands
If you're right-handed, you'll probably be more comfortable cutting your wood pieces with the largest portion of your piece to the right of your blade. Left-handers should work with the largest part of the wood piece on the left side of the blade.
Don't put your hands at the edge of your wood piece. Position them an inch away from either side of the blade to control the wood movement. Keep your fingers at least four inches away from the front of the scrollsaw blade.
Position Your Hands
Joanne considers hand position the most critical aspect of controlling your workpiece. If your hand position is correct and you're working on a good-quality saw, you will not tire quickly and you'll enjoy what you're doing. All you need is a light touch to hold the wood — a white-knuckle hold only tires you out and makes the wood more difficult to turn. (Note: Thick wood needs to be held down much more firmly than thin wood.)
Imagine that you're driving a car. You know you're headed into a sharp turn, and you reposition your hands in preparation. The same thing applies to the scrollsaw. "Think ahead," says Joanne. "Unless I'm sawing in a straight line," she notes, "my hands are constantly moving around the wood to better position myself for the turns."
Watch your hand movements. If you find yourself turning your body to control the movements of the wood, stop and reposition yourself. If you notice when you turn that your entire arm is in front of the blade, stop! Always stand square in front of the machine for best control. Once you're aware of your hand movements, you can cut anything.
Keep the Blade Moving
It's imperative to keep the blade moving when attempting to turn your workpiece. "Ninety-nine percent of my students have a tendency to stop the motor (especially when working with a foot switch) when going into a tight turn," Joanne confirms. "This causes the wood to pick up and smash back down on the table." Keep your motor going! And listen to your machine. You should not hear any sawing noise when you make a 90-degree turn.
Make the turn by putting your finger fairly close to the blade to allow the wood piece to "pivot" around the blade. An inch away from the blade is close enough.
When you're trying to cut out a circle, keep the feeding speed constant. If you continually stop and start as you make the turn, the finished edge will be choppy.
Above Tips are from Joanne Lockwood
____________________________________________________________
Start off by learning how your saw works. Getting familiar with the controls. Most saws now have a variable speed and a tilting table. Find out how to install blades on your unit in the instruction manual. Now that you know how to install a blade lets learn how to tension the blade. This is one of the most important parts of making the saw work properly.  When the blade is in the saw, ping it with your finger, (saw not running) it should give a nice high pitch, like a high "C". It is better to have too much tension than not enough. Blades are very tough and are tempered. You will break more blades with not enough tension than too much tension. With not enough tension, you will push too hard into the blade.  This will cause the blade to get hot and lose it's "temper" it will dull or break faster. Smaller blades can't take as much tension as larger blades. If you

find that you are breaking a lot of blades adjust your tension to help solve

the problem.
Now line up the blade to make it square to the table. There are different ways to do this. I use a 2″ machinist steel square, it is very accurate and leaves no doubt that the blade is square. To achieve this, (with the blade installed) loosen the bolt that allows the table to tilt. Line up the table and the blade with the square. Tighten the bolt back up that allows the table to tilt. Most saws will now allow you to set the zero degree mark on the saw now that it is set perfect. Always check to make sure that the table is square every time you start cutting. This is very important especially if you are stack cutting (will cover stack cutting later).
Now lets get ready to make some cuts. Take a piece of scrap wood and draw some lines on it. Make several curves, corners, circles, ovals, and straight lines. Put the piece on the table and adjust the hold down clamp (you may want to take it off, it is very easy to hold the work down with your hands and the hold down clamp just gets in the way). Put a blade in the saw. Use a smaller blade for thin work and a larger blade for thick work. Refer to "what blade should I use chart". Turn the saw on and adjust the speed. Start off with a very slow speed. The more you cut the more speed you will be able to use.
Start cutting on the line you have drawn. The first thing you will notice is that the blade wants to cut to the right. This is normal and nothing is wrong with the saw. You have to adjust your cutting, so turn the work to the left to make the adjustments. Use a slow feed rate. Let the saw do the work. Don't apply side pressure on the blade when cutting. Always turn the work to make the cut in the direction you want. If you apply side pressure it will cause the blade to break prematurely and can also cause your cut to have a bevel in it.
When you get to a corner, stop the feed rate, pull back slightly on your work, and spin the work around to the new line. Your spin has to be very fast so that you don't burn the wood that you are cutting. This takes a little practice but within a short time you will be making perfect turns. Immediately start applying pressure so that you are cutting on the new line again.

What wood should I use? This question depends on what you are trying to make. When first starting out practice on pine. It is easy to get and very cheap. Most of your projects will require thin plywood. I use 1/8″ Baltic Birch plywood because there are no voids in the middle. Also there are not as many knots in the wood and it is a very good looking wood. Many of your other projects will require exotic hard woods which will make beautiful works of art.
Sand all of your wood before you start. This saves a lot of sanding after you finish your project.
You can stack cut your projects to make more than one project at a time. To do this start out with wood or plywood that has the same dimensions and put them together. Stack up to 3/4″ of pieces at a time. That means you can stack up to 3, 1/4″ pieces or 6, 1/8″ pieces at a time. I've even stacked 12 pieces of 1/16″ bass wood and it turned out great. After you stack them use masking tape and wrap it all away around the edges twice.
Now your ready to make your first project. Most scrollers use a pre-made pattern. You can trace the pattern onto the wood or you can use a spray adhesive like 3M Super 77 on the back of the pattern and apply it directly to the wood itself. If using a spray adhesive spray a light coat on the back of the pattern and wait until it is tacky (about the same as masking tape) before applying it to the wood. If you apply it right away it will be very hard to get it back off.
After applying the pattern drill holes out for all of the inside cuts you will have to make. Try to drill the holes near a corner and make it close so you don't have to cut a long way to get to the line. Use a drill press or one of the drill guides like they make for the Dremel. This is important for the real small inside cutouts because it is very hard to drill the holes with a regular drill straight enough. If the hole is not straight when stack cutting you might drill right through the line where you need to cut.
If you are stack cutting, nail some brads In the waste spaces to make the pieces stay tight together. If there are gaps in between the pieces the blade will cause tear out and make a rough cut that needs a lot of sanding. Use a steel plate on the bottom so that the brad will not go all the way through the wood.
Now you have to tread the blade through the hole on the project. Attach the blade to the bottom blade holder and tread the blade up through the hole. Then attach it to the top blade holder (unless you have a saw that can feed down from the top to the bottom like the Dewalt Scroll Saw). Start cutting out the middle holes first and work you way to the edges.
When finished cutting out your work pull off the pattern and sand the rough spots. Finish the project with a finish of your choice.

_______________________________________________________
SCROLL SAWING NOTES AND TIPS:
Types of Wood
Woods are increasing in cost, and depending on the project, this can get expensive. Fortunately in scroll sawing there are a fair number of options. The favorite has been Baltic birch plywood. This wood has almost no voids in the layers, and is reasonably stable against warp age or breaking. Often it is desirable to get the effect of more exotic woods. This can be achieved by gluing veneer to Baltic birch plywood. Small scraps of veneer are available from various suppliers, and local wood working shops.
Other options are MDF (medium density fibre board) which is easy to saw because it has no grain, but has an undesirable finish unless finished in paint or other covering. For items that will be painted, MDF is a very good choice. It is also a good choice for "print-on" patterns. These patterns are printed from the computer printer in color and glued on permanently. Then when the item is sawed out, it is already prefinished. Scraps of wall paper can be glued on MDF to get a multitude of effects. This is a very cost effective way to dress up a project. For those who want to get a more exotic look that is labor intensive (but not too costly in material) one can construct multicolored material. There are a number of ways to do this but the basic concept is to glue multiple sheets of colored construction paper (or similar) together in alternating color patterns. This could be done on top of MDF, or if done thick enough could be made into a solid block of its own. It can then be sanded at an angle to expose multi colors, or in the case of the solid block, could be sawed (resawed) on a band saw at an angle to expose any desired effect. We have also included a download on the web site of a "rainbow" pattern. The rainbow effect can then be glued on before the pattern (or on the reverse side) to achieve a prefinished rainbow effect.
Prefinished hardboard is another option for some items. This type of hardboard is commonly used in bathrooms and kitchens. Some patterns available include floral arrangement and other tile effects. This material is a good choice for items such as table place mats. It is durable, easy to clean, as well as prefinished.
Paper, plastic, and thin metals may also be used as material. Paper is best stacked and sawed between two pieces of scrap wood to sandwich the paper and hold it tight. Other materials and combinations are also possible, limited only by your imagination, and the size of your saw.
Thickness of Wood
It is important to consider the pattern when picking the thickness of wood to use. The two biggest concerns are warpage and breakage. The size of the pattern and complexity will determine the thickness requirements. If the wood is multi-ply (plywood) it generally can be thinner with less concerns about warpage or breaking. If solid wood is desired, then it is best to go thicker to help avoid problems. You will have to use your judgment and experience to help make the best choice.
Printing our Patterns
All patterns from this web site are printed on letter size paper.
These patterns are best if pdf is printed "as image" to better maintain the size and quality. And most importantly this ensures a consistently sized printing from one pattern to the next. This is especially important for multi page patterns.
Attaching Patterns
There are many ways to attach a pattern to wood to scroll saw it. If the pattern is not complex it can be traced with tracing or carbon paper. However for soft woods this can leave marks and the grain sometimes makes it hard to follow the lines exactly. With other methods attaching is a balance between a strong enough attachment to avoid the paper lifting during sawing, and the ability to remove the pattern from the wood. If a person owns good sanding equipment, and is not working with thin veneer, then a practical method can be to attach the pattern with a glue stick. This is quick, not messy (like spray adhesives), allows you to attach only the areas necessary, and can be worked with immediately with no drying times. Of course it sticks very well and you do not get any lifting of the pattern during sawing. However the compromise is that you need to sand off the pattern, and if you have a wood has large pores you may need extra sanding to remove glue that maybe in the pores.
Spray adhesives are commonly used by scrollers. The strength of the bond can be adjusted by the drying time before application of the pattern. The compromise is you need to setup a spraying area, becuase it is a bit messy, and you need to be consistant to ensure the pattern is attached properly.
Next there are combination methods. One can put a tape down on the wood such as painters tape, or packing tape. (Both come in various widths) Then attached the pattern to the tape pernamently using a glue stick. This has the advantage of good attachment so it does not come loose during scrolling, yet becuase of the consistancy of the tape, it can be removed from wood without requiring sanding.
No matter what method you use (there are lots) have fun,and remember there is no right way or perfect way. The way you want to do it, is the way that is right for you.
Reducing Fraying
To help prevent fraying on the bottom side of a item, place a backing underneath the wood. The backing can be another piece of wood, or thin cardboard such as from a cereal box. This is especially useful to prevent a pre-printed paper coating from fraying on the bottom side. Fraying generally only occurs on the bottom side of the sawing action, so when an item is stack sawed, the advantage is there is no fraying in between the stack layers.
Raise

d, Recessed or Flush Wood
The technique used to raise for recess wood is to place the scroll saw table at a slight angle.
Angle required depends upon:
blade thickness
wood thickness
desired amount of raising or recess
The direction of cut (i.e. CW or CCW) will determine if the wood is raised or recessed (along with table tilt direction). With the table tilted uphill left to right, a CCW sawing direction around the outside of a pattern will result in raised wood.
The secret is to use a test piece of wood to verify the desired effect. If you keep the direction of cut, blade thickness, wood thickness the same, then you can have full control over the desired amount of effect, by table tilt only.
Requires the use of a small hole to minimize the visual effect. Also it is best if the location of the hole is picked at a corner. A small manually turned drill often works best for drilling these type of holes.
A tight fitting flush wood effect can also be achieved by a small table tilt (i.e. small raised effect) and then sanding the reinstalled wood perfectly flush. This is useful if the cutout piece is stained a different color to accentuate the difference.
Stack Sawing
Stack sawing has the obvious advantage of sawing more items, with basically the same effort. A second benefit is the wood does not fray in the stacked layers. However the compromise is that as the thickness of the stack increases there is some error in the cutting angle from the bottom of the stack to the top. This makes it important that the table be square with the blade, and that no sideways pressure is applied during sawing. Tight blade tension helps reduce blade bending. The more detailed the pattern the harder it becomes to stack saw, as the accuracy with in the stack will become more important.
When nailing to build up the stack, nail around outside edge and cut the outside last. Alternate methods of building the stack are taping around the outside, and double sided tape between the layers.
Compound Sawing
Compound Sawing is a technique of sawing from 2 or 3 different sides, to produce an item that has a 3D effect to it. The normal approach to this is to take a 2D printed pattern and fold it at the corner of the wood, so that once attached to wood results in two aligned patterns at right angles. Compound scroll sawing is easier with softer woods. It is also of benefit to ensure the wood has square sides, and the table is square with the blade. Also remember that thicker woods need blades with fewer teeth per inch, and it is helpful to slow the speed of the saw down.
Picture Frame Windows
The problem with picture frames, is how do you mount the glass and the picture? An easy way around this is to use thin plastic, such as those available from some cardboard product packages such as toys. The picture and plastic window can be simply be stapled to the rear of the frame that has been scroll sawed. Alternately a 2nd outline can also be sawed (or even stack sawed) so the picture and plastic window may be sandwiched between the layers. When stack sawing the rear portion, it is desirable to separate the stacked layers before sawing out the inner portion. This will allow a perfect outer match, but still give the rear plate an area of complete backing where the picture is.
The second problem is what if you want to place it on the desk instead of hanging on the wall? Wall hanging only requires a hole to be able to hang it and most patterns already have a convenient hole already to do this. For desk viewing of a picture a simple method to support the pattern is a dowel (or two) mounted near the bottom from the back side. The height from the bottom will determine the desired amount of leaning.
Coaster Tips and Options
– Mount pattern on reverse side (especially when using Good One Side wood(G1S).
– When stack sawing put the best side to the inside.
– Trim corners to make smaller if the object is large. This will allow easier rotating of the wood.
– When performing a lot of fretwork, it is often not necessary to remove the blade entirely for each hole. Often it is only necessary to remove the top connection to the blade. Pull the wood off the top, and reinsert into a new hole. As long as the wood is not a large piece, or the hole is close to the outside edge, this is not too hard an operation.
– Felt on bottom side of pattern
– Glue the felt on before sawing
– stack saw felt back to back facing the inside, so no felt is on the outside of the stack.
– Some napkin and paper towel holder patterns have a pin to hold the coasters. This pin length can be adjusted to hold almost any number of coasters. So it is best to decide how many coasters you are going to make for your set before determining the pin length.
Scroll Machine Saw Setup
-The most important operation (for thick sawing) is squaring up the scroll saw table to the blade. This is done with a small metal square. An alternate method is to use a tall block of wood, (like from a 2×4) and saw a test mark. Then turn the block of wood upside down and saw a second test mark over top the first one. If the marks line up exactly the saw is perfectly square to the table (assuming the board was not warped) If the marks to not line up the table angle will need to be adjusted, and the test repeated.
-The selection of the speed of the blade can be used to help you gain more control over the sawing action. This will vary from user to user, so experiment with what works for you. However the thicker the wood the slower the speed you will need to use
-Dust collection should be used. Especially with some exotic woods whose dust is more toxic than others. An excellent dust collection system can be made from an old furnace blower assembly and a low speed motor. The low speed motor helps ensure quiet operation, while with the over kill of furnace blower you can still get enough dust collection capability. It is possible to design this right into a scroll saw table. This is also great for scroll sawing in the house or apartment when you do not want dust to collect anyway.
Blade selection
The brand is a matter of personal preference. The blade size selection is basically a trade off between the ability to cut straight and the ability to make tight corners. Bigger blades can cut straighter while the smaller blades perform tighter corners. The larger the blade number the larger the blade. Smaller blades are required for the tighter corners. When purchasing blades also look out for the thickness of the blade. Thicker blades are generally stronger, but will not make as tight a turn. A general kit for scrolling may have blade numbers 9,7,5,3,and 2
____________________________________________________________
Applying Patterns to Wood
Some woodworkers may choose to cut designs freehand, but the preferred method is to use a pattern glued to the wood. Use a temporary spray adhesive to attach the pattern and then cover the cutting area with clear packing tape. The packing tape will act as a lubricant for the saw blade and prevent burn marks on the wood. After cutting, you can easily remove the tape and pattern for sanding. If you accidentally use too much spray adhesive and cannot remove the pattern, apply some mineral spirits, and it will come right off.
Cutting Straight Lines
The first thing every new scroller learns is that a scroll saw does not cut in a perfectly straight line. Generally, the saw blade will veer to the right when making straight cuts. The blade manufacturing process causes this problem due to a burr on the right side. To compensate for this, try standing slightly to the right of the saw and feed the wood straight into the blade from the new position. You should be able to achieve a much straighter cut from this angle.
Hand Positioning
Your hand position must allow you to move the wood around the blade freely. Place one hand on each side of the wood. Apply enough pressure to prevent the wood from bouncing but will allow the wood to rotate easily. Try to keep your dominant index finger close to the blade to improve cutting accuracy. Allow the wood to feed into the blade. Forcing the blade into the wood will cause it to break and potentially ruin the project.
Cutting Curves and Tight Corners
To accurately cut curves, pick an imaginary point about 1/16 inch in front of the blade path. Concentrate on keeping the kerf in line with the imaginary point. Cutting to the imaginary point helps to keep the blade on the proper path. Navigate tight corners by quickly spinning the wood until the front of the blade is in line with the new cutting direction. Since the sides and back of the blade do not cut, use this to your advantage by applying slight pressure to one of these areas to hold the wood in place as you spin it. The spin should be fast enough to avoid burning the wood.
____________________________________________________________
Care & Set Up
Always read your tool's instruction manual first and follow their guidelines, for proper setup and maintenance. Follow their lubrication guidelines religiously. …….Here are a few extras.
Machine Setup:
Often we hear stories about how noisy or how much vibration a particular tool generates, only to find out that it is walking around the floor. It is very important that the scrollsaw is held firmly in place, one way or the other. Screw it down to a bench, or mount it on a stand that is heavy enough to hold it in place. It is both dangerous and hard on your tools to let it float.
Table top:
Wax your table with a good, furniture grade paste wax. If there are burs or sharp metal edges, sand with a very fine emery cloth first. This will make all your work slide more easily, as you rotate your wood through tight corners. This will also help to prevent rusting of your table surface. Don't use your table as a bookshelf!!
Table Insert:
If you have a separate insert where the blade travels, it often gets caved in with continuous usage. If this is the case, it can cause your pieces of wood to not sit flat on the table and make for difficult cutting. Either cut yourself a new insert if possible or take an new board, cut into the centre with the blade, and clamp this board onto the original steel table. It can be replaced as needed.
Vibration:
Often this can be caused by wear in the arm pivots, rather than incorrect blade tension. Take the blade out, and see how easily the arm moves left to right. If there is a lot of blade movement, check your manual or ask your supplier whether there is a way to adjust this, or a part that can be replaced. The sooner this is fixed, the longer your machine will last.
___________________________________________________
Creating a custom building portrait
Hand-draw or use software to design your own pattern
A friend commissioned me to cut a fretwork portrait of the Biltmore House in Asheville, N.C. I used her photo to create the pattern and portrait of the famous mansion.
Since then I have finished a few more house projects. Most of the homes were easy to design compared to the Biltmore House.
Of course, the more floors, features, and landscaping a house has, the more complex the pattern will be. I usually eliminate trees and other landscaping elements because they distract from the house. As you master this technique, experiment with adding a tree to the side of the house to add character to the project.
You can also add a name and address to the portrait. Choose a font that accents the design of the house—a comic sans font will not work with a Spanish-style house, and a Gothic font will not work with a colonial-style house.
I use a commercial computer program such as CorelDraw or Photoshop, or a free program such as Gimp or Inkscape. But, it's also possible to create a pattern using a pencil, paper, and ruler.
To use a paper and pencil, print a large photograph of the building and tape it to a flat surface. Attach thin tracing paper over the photo. I use a ruler and sharp pencil to trace the lines of the house; be careful not to puncture the tracing paper with the pencil.
To use a computer program, open the photo in the software and use the pencil or line-drawing tools like a pencil.
Materials & Tools:
For computer-generated pattern:
• Drawing software, such as CorelDraw, Photoshop, Gimp, or Inkscape
For hand-drawn pattern:
• Tracing paper or onionskin paper (optional)
• Pencil
• Tape
• Drawing board
• Compass
• Ruler
• French curve set
For all projects:
• Plywood, 1/8″ (3mm)-thick: portrait and backer, 2 each sized to the pattern
• Blades: #2 or #2 reverse-tooth spiral blades
• Drill and bits: assorted small bits
• Danish oil
• Frame
To see article in Scrollsaw Woodwork website with the vectored steps in print, visit the website below…
http://www.scrollsawer.com/techniques/creating-a-custom-building-portrait.html
______________________________
The following article was copied from
Woodworkers Journal Ezine.
I would encourage everyone to join this newsletter.
http://www.woodworkersjournal.com/Ezine/Public/Ezine.aspx
*****
Jim Arnold estimates he has made between 32,000 and 33,000 different chess set pieces. These days, operating out of a business portal on etsy.com, it's what he does.
The carving began when Jim was about 10 years old. "My dad carved a squirrel, and I was just fascinated by that," he said. "My response was to try to carve a boat." Jim doesn't know what happened to that boat (which he didn't complete), but he is a lifelong sailor, who grew up to hold a merchant marine master's license and hold a job as a charter boat captain.
He got into woodworking again "out of necessity by doing my own woodwork on the boat when I needed to repair it." From there, he started doing carvings on his boat tillers — skulls, mermaids, etc.. People would see the carvings, and want some for themselves. "I had no shortage of work when I got done with my regular day job," Jim said.
When his mom got sick in the 1990s and he needed to go back home and take care of her, Jim found his dad's tools in the garage. He made his first chess set; friends and family saw it, and, "without even thinking about it, I had orders."
At first, he had a certain style of set he regularly made, and he did the road show circuit of church basements and so forth, sometimes even setting up shop in an open space on the side of the road. Sales 
were pretty good, but around 2003 or 2004, Jim said, some competitors began copying his design. His response was to change his design, making it harder to copy — and leading to his current work, which includes custom ordered chess sets. All of them are hand carved.
"Most people use power carvers, but I'm a lot faster with hand tools than I would be with mechanical stuff," Jim said. His go-to tools include bench chisels, utility knives or, sometimes, surgical scalpels. "I like using hand tools. I like the way it looks, the old-fashioned way," he said. "It grabs people's attention and works for what I do."
While he frequently hears people tell him that his work seems tedious — he does, after all, have to carve 16 pawns that look the same for each chess set — Jim points out that his experience means "I can carve almost anything: any kind of animal, shape, anything."
Among the things he've carved are chess sets with the themes of the lost sea city of Atlantis (sea god Neptune was the king), the Great Train Robbery, and the War of 1812. He particularly enjoyed that last one, even though it took him a year and a half altogether to make it, since he needed to work in his time around his commissions (which generally take between six to eight weeks for completion).
Jim's wood choices are based not only on carving considerations, but on the desires of the chess community — most of whom want hardwoods, things like ebony or lignum vitae, Jim said. Currently, his work uses a lot of walnut, and a lot of pearwood — which was used historically in chess sets up until around the 1850s, and, he said, "is a great wood to carve."
Jim does occasionally make things other than chess sets — walking sticks, picture frames, and, currently, carving a few different whales and dolphins onto a downed tree. "I do this other stuff to take a break, but it's kind of crazy," he said: "I'm still carving."
Once, he said, a customer didn't pick up a chess set order, and, remembering the prompting of his mom, who had elbowed him and told him to "make 'em one!" when watching an episode of As The World 
Turns in which two characters were using a chess set, Jim sent the set off to the actor. It was later used as a prop on the show. His sets have also appeared on the current Charlie's Angels TV series, and as part of the Winchester brothers' belongings on the TV show Supernatural.
He's also been invited to display his work at the 2011 Southern Governors Conference, as one of four artists from the state of North Carolina, and as a vendor at a 2008 chess 
conference in Boca Raton, Florida, which also hosted the U.S. Senior Chess Open. Players such as Yuri Garanin attended, and "It was kind of fun to have those guys come over and talk to me in Russian with smiles on their faces and give me thumbs-up about my work," Jim said.
Most of his customers, however, are "everyday people." The purchase might be a Christmas present for the family, a birthday present, or a graduation gift. "It's always about family," Jim said, "and it is for me, too. As a kid, my dad took the time to teach me and my brothers and sister how to play. It's kind of fun to think maybe I've got something to do with creating those kinds of moments for other people.
"It's kind of like woodworking: it's a generational thing, with people from one generation to the next. I'm glad to be a part of that."
___________________________________________________________
Chris Yates….another article from the same site as above article.
Please join the link above to get this great newsletter.
*****
Chris Yates has been woodworking for what he figures to be around 18 years, from his early days of building sets for high school plays to studying at the Rhode Island School of Design to starting his own design and woodworking 
business, so it's no surprise to see him out and about in the woodworking community. What was a bit of a culture shock was seeing him, and his work, on display at Comic-Con.
The reason, however, was simple enough. He was already making comics of a sort on his website, and after not really finding much success at craft fairs and festivals, he found a home with a group of comics artists called "Dumbrella" and a new market for his work: comics fans.
It shouldn't come as much surprise that there's a lot of crossover; after all, fans and buyers of art will often be drawn to art in any style, and Yates' work is definitely stylish. He likes to call his puzzles "handmade sculpture you can play with." He elaborates that the "key, I think, is to approach every puzzle with a modus operandi that is a balance/compromise of beauty and trickiness."
His most popular line is what he likes to call the "Baffler." In those puzzles he sets out "to make some extreme challenges for myself, and when it's really complicated to create, it's usually going to be just 
as complicated to reassemble." He marks his favorite challenges as puzzle #1,000 — "The Test," a 9.9/10 difficulty rating puzzle with 1,239 pieces; #1,500 — "The Staircase" at 9.92 and 804 pieces; and #1,750 — "The Structure," with 1,263 pieces and a 9.93 difficulty. That puzzle was so difficult to construct and arrange, it took Yates "eight days of full concentration to assemble, and I am pretty dang good at my own puzzles."
His works are fairly unique in that they're multilayered and wrap around the base in different directions, so a lot of planning goes into figuring out how each piece is cut into the puzzle, especially ensuring that the different layers stay matched up perfectly during glue-up. Once he's sure that everything lines up right, cutting the individual pieces is "more or less improvised." Individual joining techniques will probably be different for every puzzle maker.
Though the Bafflers take up most of his time these days, Chris tries to squeeze in other woodworking projects from time to time. His main obsession from 2001 – 2004, he says, was Terraforms, topographical maps made in a similar style to his puzzles. He still does them by commission, but his crowning piece was made in 2003: a scale model of the 20-mile radius around Aspen, Colorado made with just a Ryobi band saw, a project that he notes "probably drove (him) insane."
Chris uses MDF for all of his pieces, knowing that a lot of woodworkers would "pooh-pooh" him for using "something you hide behind veneers and only use for basement paneling." But he finds that MDF's 
unique composition and shape-ability makes the perfect material for constructing his multilayered puzzles.
The construction comes courtesy of a DeWalt 788scroll saw, which Chris praises as a quiet, stable, and accurate alternative to his old Dremel 1800/1830 scroll station, but also more "fickle" and expensive, so the Dremels work well for beginners. For those going for the DeWalt, he cautions, "Be sure to clean or replace the 'brushes' after every 200 hours of use and check your speed and table angle every so often. I've found the machine occasionally likes to make its own settings."
Other tools he suggests for potential puzzle makers include lots of blade clamps, some 220-grit sandpaper in case the blades slip ("If it doesn't happen, either you're not cutting enough or you are LUCKY") and other standard shop tools like your band saws, table saws, jigsaws and sanders. Yates also goes through a lot of paint. He has 90 active spray cans of different colors ready at any time and 200-300 more backups on hand.
Chris Yates invites anyone interested in learning more about his specific puzzles or buying one to visit his website, and check out his gallery and "give yourself some fresh woodworking ideas."
**********************************************************************

40-695
20 in. Variable Speed Scroll Saw
Available April 2012
Electronic variable speed can be adjusted from 400-1,750 SPM for a wide array of cutting applications.
Unique dual parallel-link arm design reduces vibration and noise and keeps the blade perpendicular to the work surface which dramatically reduces over or under cutting, improving accuracy and quality.
Upper arm lifts and locks in the raised position during blade changes or while adjusting blade position for fret work.
On/Off switch, electronic variable speed dial, flexible dust blower and blade-tensioning lever are all conveniently located up front on the arm for easy accessibility.
| | |
| --- | --- |
| Motor: 1.3 Amp | Speeds: 400-1,750 SPM |
| Throat Capacity: 20 in. | Stroke Length: 3/4 in. |
| Table Size: 16 in. x 24 in. | Table Tilt: 0°-45°, Left and Right |
| Cutting Capacities: at 90°: 2 1/8 in. at 45°: 1 5/8 in. | Assembled Depth: 39 in. |
| Assembled Width: 16 in. | Height at Max Stand Setting: 50 3/4 in. |
| Height at Min Stand Setting: 47 1/4 in. | Weight (Saw and Stand): 85 lbs. |
_______________________________
Customized Safety Margin Whirlwind BLACK BOX accommodates various enclosures and shields for adjusting degrees of safety.
Introducing 21st Century Woodworking Technology
The BLACK BOX "Plug & Play" Flesh-Sensing
Saw Safety Stop
Senses when fingers are in
danger and STOPS the saw
blade in 1/8 OF A SECOND!

Developed by veteran woodworker David Butler, the patent-pending Whirlwind Tool™ BLACK BOX table saw emergency blade brake is a simple bolt-on/removable device which can be easily and inexpensively incorporated into use with millions of existing saws and machine tools. The prototypes showcased on this site differ from all previous table saw blade guards and emergency blade brakes, with a built-in "electronic fence" blade enclosure. Removable, extended safety shields can be wide or narrow to offer varying safety margin depending on user comfort and experience.

TRUE FLESH PROMIXITY DETECTION

Whirlwind has ALWAYS incorporated
proximity detection in its safety features.
Click image to view video demo.
If the operator approaches or touches the clear blade guard fence, the proximity detector will immediately shut down the saw motor and stop the blade, without damage, in one-eighth of a second — long before the operator can contact the spinning blade. The saw can be restarted almost immediately. Table saw miter cuts, bevels, narrow rip cuts, non-through cuts and dadoes have all been implemented with the BLACK BOXprototype.
Key Features:
Non-destructive operator flesh-sensing feature for emergency stop protection.
Superior above table saw-dust containment and extraction method for protection from breathing carcinogenic saw-dust.
Anti-kick-back device that is simpler than any other.
Whirlwind prototype development encompasses several models
In addition to the revolutionary, new BLACK BOX system showcased here, Whirlwind™ health and safety technologies have been successfully implemented using the Makita bench top, Delta, Powermatic and Rigid saws. Click here for more photos and demo videos.
_______________________________
The following is not a woodworking article but most of us could use this info.
Original author unknown, borrowed from several websites.
Topic: Rechargeable Batteries
Oxyride (aka Nickel Oxyhydroxide, NiOOH) — best disposable battery (but consider using rechargeable NiMH instead)
Oxyride batteries came out in 2006 to challenge alkalines. And they do a great job at that: They last more than twice as long as standard alkalines in digital cameras, and around 1.5x as long as high-drain alkalines like Duracell Ultra. They're cost-competitive with alkalines too. The only problem is that they're not rechargeable. For this reason, for most applications I still recommend NiMH. Recharging batteries saves you money and means less waste.
Oxyride batteries put out 1.7 volts, higher than the 1.5 from an alkaline, and way higher than the 1.2 volts from a rechargeable battery. But higher voltage isn't necessarily an advantage, because voltage isn't the same thing as capacity. Voltage is how "powerful" the force is, not how long that force lasts. The extra voltage should be safe for most devices, though I expect light bulbs may burn out a bit quicker.
One person claims to be able to recharge oxyrides, but only with a slow charger, and only for six cycles. That's not nearly as much as an NiMH, which can be recharged hundreds of times.
More on oxyride batteries:
Oxyride review in the New York Times
Oxyride battery tests. Shows that oxyrides last much longer in cold temperatures vs. alkalines. They underperformed alkalines at normal temperatures, but that's because of the nature of the test — a constant drain. In more typical use, oxyrides will always beat alkalines.
Best Batteries | Batteries Compared | Battery Types | Battery Tips | Chargers | Charging Tips | Links
Alkaline — good disposable battery (but consider using rechargeable instead)
Alkaline is the most common type of household battery. It became popular in the 1970's, as an alternative to wimpy Carbon Zinc and Zinc Chloride batteries (e.g., "Heavy Duty" and "General Purpose" batteries). Alkalines have a lot of power and are inexpensive, but they usually can't be recharged. (Exceptions listed below.)
Standard alkalines don't work well in high-drain devices (like digital cameras), because they're not good at pumping out lots of juice quickly. They'll still work, but your battery life will be really short. However, most manufacturers have introduced special alkalines which work well in high drain devices, such as Duracell Ultra, Energizer Advanced Formula, and Kodak Photolife.
By the way, there's not much difference in capacity from brand to brand, as long as you're comparing standard to standard, and high drain to high drain — they're all pretty much the same, despite the manufacturers' commercials. Consumer Reports found that the spread between the best and worst alkalines was only 9-15%. Tests by ZBattery.com also showed little difference between name-brand alkalines.
Alkalines used to contain mercury, a toxic metal, but Congress banned mercury from household batteries in 1996. So alkalines don't have any special disposal requirements — it's safe to throw them away. The exception is button batteries, the kind that go in watches and calculators. Radio Shacks will accept button batteries for proper disposal.
Alkalines lose their voltage gradually — as opposed to rechargeables like NiMH or NiCad which maintain most of their voltage over the whole charge and then suddenly plummet.
Alkalines might leak if they're used only lightly or not at all for a long period of time. For expensive devices that get only very infrequent use over a long period of time, Heavy Duty batteries in theory might provide more protection, since they reportedly leak less, even though they're weak and don't give much run time.
How to Recharge. You need a special charger for alkalines. If you charge them in a standard charger they'll explode. But it's probably not worth even trying to charge alkalines in the first place, because they can be charged only about 10 times (vs. hundreds or thousands of times for a real rechargeable battery, like a NiMH or a NiCad). The newer high-drain alkalines are especially resistant to charging. Anyway, if you must rechage alkalines, and you've purchased the special charger for doing so, then keep your alkalines "topped off". The sooner you recharge them, the more recharge cycles you'll get out of the battery and the more total power you'll get out of it. If you let an alkaline drain too much, then you won't be able to recharge it. All this is true of both standard alkalines and rechargeable alkalines.
Best Batteries | Batteries Compared | Battery Types | Battery Tips | Chargers | Charging Tips | Links
Rechargeable Alkalines — usually worse than NiMH
Rechargeable Alkalines (RA's) were designed to be the best of both worlds — the high capacity of an alkaline, combined with the rechargeability of a NiCad. They're not.
RA's get far fewer recharge cycles than a real rechargeable (NiMH), and their capacity drops every time you charge them. After as few as eight cycles, an RA could have HALF the capacity of a new RA, according to chart on Energizer's and Accucell's websites (which they've since removed). In fact, RA's have lower starting capacity than the best NiMH's right from the get-go.
RA's also require a special recharger (not a standard recharger). And you can't use RA's in high-drain devices like digital cameras.
That said, there are exactly two cases in which RA's could be your best choice:
You need the extra voltage an alkaline puts out. Some devices that take multiple batteries won't work with NiMH because the voltage is too low. (more on this problem) And with LED flashlights, even though NiMH will work, you'll get a brighter light with RA's.
Your device is used infrequently (like a flashlight) and the high self-discharge rate of NiMH's means that the batteries go dead on their own between periods of use.
The three RA brands I know of are:
How to Recharge. You need a special charger for RA's. If you charge them in a standard charger they'll explode. Get the charger from whatever retailer you get the batteries from. Keep your RA's "topped off". The sooner you recharge them, the more recharge cycles you'll get out of the battery and the more total power you'll get out of it.
Why there aren't 9V rechargeable alkalines. From the Rayovac website: "There are two reasons: (1) 9V batteries actually have six small 1.5 V-cells inside them. Reusable alkalines need to be charged individually for reliable performance. Since you can't access each cell inside the 9V battery individually, they could not be reliably recharged. (2) Most products designed to run from 9-Volt batteries last for many months. Recharging these batteries provides limited benefit in terms of cost savings (the cost of replacing batteries is not significant anyway)."
Best Batteries | Batteries Compared | Battery Types | Battery Tips | Chargers | Charging Tips | Links
NiMH (Nickel-Metal Hydride) — Your best bet if you're going to recharge your batteries.
NiMH's have replaced NiCads as the rechargeable battery of choice, because they have a higher capacity than NiCads and don't have the special disposal requirements that NiCads do. You can get AA's from Thomas Distributing (800-821-2769) for as little as $1.25 each. If you need them today, you can get a pair of AA's at Radio Shack for $9.99.
Unlike NiCads, NiMH's contain no toxic metals and have no special disposal requirements, so when they won't hold a charge any more you can throw them away. If you prefer, many manufacturers will recycle the batteries if you send them back. (e.g., Duracell, 1-800-551-2355 to get the address)
Note that NiMH's come in different capacities; for example, one D-cell might be 2200mAh while another is 8000mAh. So always check the label to see the capacity. If the capacity isn't stated, don't buy it. Of course, you'll pay more for higher-capacity batteries. Thomas Distributing has a good assortment of NiMH sizes, and they clearly state the different capacities. Note that some chargers may not completely fill up a high capacity NiMH D.
A possible downside shared by both NiMH's and NiCads is that they put out less voltage than alkalines (1.2 V instead of 1.5 V). That means that devices which require four or more batteries might not even work at all with NiCads or NiMH's. (They might work; it depends on the device. Doesn't hurt to try. Appliances that take only one or two batteries usually work fine. Four batteries, maybe, and eight, probably not.)
Unlike alkalines which lose their voltage steadily, NiMH batteries maintain most of their voltage over the whole charge and then suddenly plummet, as shown in the graphs below. For this reason many electronic devices that tell you how much battery life is left have a hard time reporting an accurate level for NiMH's. The voltage is very similar for both a fully-charged battery and a nearly-spent battery. Some devices (like my GPS wristwatch) let you specify in the setup menu whether you're using NiMH or alkalines, so they can try to be more accurate with the battery-remaining indicator.
Another downside of both NiMH's and NiCads is that they self-discharge quickly (~20-25%/month). Self-discharge means they lose power even if they're just sitting in a drawer. Shelf life is about 2-3 months. So they're not the best choice for, say, emergency flashlights (use alkaline instead) or smoke detectors (use lithium — lasts 7-10 years).
You can't recharge NiMH batteries in an old NiCd charger. If you try the batteries could explode. If your charger isn't specifically labeled as handling NiMH batteries, then it can't.
How to charge. You'll get more recharge cycles if you charge soon (before the battery has lost too much power). But since you can typically charge NiMH's hundreds or thousands of times even if mostly drained each time, you probably shouldn't worry about it, and can just charge recharge whenever you like. Just try not to drain the battery completely before you recharge. For more, see our charging tips.
Best Batteries | Batteries Compared | Battery Types | Battery Tips | Chargers | Charging Tips | Links
NiCad (Nickel-Cadmium) — Old-school rechargeable. Use NiMH instead.
NiCads are obsolete rechargeables. They've been replaced by Nickel-Metal Hydrides (NiMH's). NiMH's have much higher capacity and don't have special disposal requirements, so in most cases you should use NiMH's instead of NiCads. But if you still have some old NiCads lying around that you want to use, keep reading.
NiCads don't last very long before needing a recharge. They typically have 50 to 67% less capacity than alkalines and NiMH's. NiMH's. Even "High Capacity" NiCads have way less capacity than NiMH's (~900mAh vs. 2500mAh for an NiMH). If you're using C- or D-cell NiCd's, you'll also have to deal with the fact that many chargers won't completely fill up a high-capacity C or D.
A downside shared by both NiCads and NiMH's is that they put out less voltage than alkalines (1.2V instead of 1.5 V). That means appliances that require four or more batteries might not even work at all with NiCads or NiMH's. They might work; it depends on the device. Appliances that take only one or two batteries usually work fine. If your device needs more voltage then consider rechargeable alkalines, listed above.
Another downside of both NiMH's and NiCads is that they self-discharge quickly (~10-25%/month). Self-discharge means they lose power even if they're just sitting in a drawer — shelf life is about 2-3 months. So they're not the best choice for, say, emergency flashlights. (Use alkaline or rechargeable alkaline instead.)
Also, when NiCads are dead, you can't throw them away because they contain toxic metals. You can drop them off for recycling at ACE Hardware, Circuit City, Sears, Target or Wal-Mart. (Radio Shack won't take them, according to the rep I spoke with on 10-27-99 at 1-800-THE-SHACK). For other stores in your area, check out the Rechargeable Battery Recycling Corporation's website. And don't be scared away by all that talk on the website about their recycling batteries with the special label; they'll take any NiCad even if it doesn't have the special label.
NiCads have only one advantage over NiMH's, which is pretty minor: If you drain a NiCad down too far then a good charger can often resurrect it, but an NiMH drained too far will be more resistant to being brought back to life.
How to charge. Charge when you start getting poor performance in your device (the light dims, the tape player slows down, etc.) At that point they'll be down to about 1.1 volts. If you drain them completely (e.g., if you wait until the light is completely dark), you'll shorten the life of your batteries.
You may have read articles that tell you to drain your NiCads "completely" or "fully". It's crazy, but by saying "completely" they mean "NOT completely". They mean to drain the battery down to about 10% of remaining capacity, or until the remaining charge is about 1.0 to 1.1 volts. (I know, it's stupid for them to say the opposite of what they mean. Go figure.) The better battery chargers will perform this discharge for you automatically, and call it "conditioning". If you drain to what you or I would consider "completely" (i.e., no capacity left), you'll shorten the life of the battery, meaning you won't get that many more recharge cycles out of it.
NiCads put out a fairly consistent 1.2V for the length of their charge, and when that charge is spent, the voltage drops rapidly. When a NiCad is spent is voltage will be around 1.0 to 1.1V. (Alkalines have a completely different power curve. Their power drops gradually over the life of the charge, pretty much a straight diagonal line going down.)
Don't overcharge NiCads. Most chargers stop charging when a battery is done, but some don't (especially older models). If your charger is dumb and overcharges a NiCad, its capacity may be decreased, and may even be completely ruined. In most cases, overcharging a battery for a day or sometimes even longer won't hurt it, so don't panic if you overcharge by a few extra hours. It usually takes at least an extra day to hurt it, but that really depends on your charger. Of course, all this is irrelevant if your charger shuts off when a battery is done. Check the manual to see if yours has this feature, or ask the manufacturer if the manual doesn't say. (Or better yet, just get a good charger.) If your charger doesn't prevent overcharging, ask the manufacturer how long the grace period is before it starts overcharging the batteries.
Let NiCads cool before recharging. Some rechargers figure that a NiCad is done recharging when it gets hot, so if you put a NiCad that's already warm in your recharger, the charger may quit charging before the battery is fully juiced up. If your batteries are warm for some reason (like from sitting in your car), let them cool to room temperature before recharging.
Memory effect There's a theory that NiCad batteries can suffer from a memory effect. The basic premise is that if you recharge a NiCad before it's mostly spent, the battery will "remember" the capacity at which you recharged it, so you will have reduced the capacity of the battery.
Does this really happen in NiCads in household battery sizes? Heck if I know. Half the articles I've read argue passionately that it does happen while the other half insist it doesn't. Consumer Reports didn't notice any memory effect in their testing. Whether it exists or not, here are some things to pacify you: Most sources say that memory effect is only a problem if you repeatedly recharge a NiCad before draining it most of the way. Doing it once in a while shouldn't be a problem. Also, you can usually erase any memory effect by draining your battery most of the way and then recharging it. Finally, manufacturers tend to claim that their newer NiCads are less susceptible to memory effects, and that their newer chargers have special circuitry to prevent memory effects. Me, I've simply never worried about it. And of course, if you're using NiMH's (which you probably should be), you don't have to worry about it either, since NiMH's definitely don't have memory problems.
For more, see our charging tips.
Best Batteries | Batteries Compared | Battery Types | Battery Tips | Chargers | Charging Tips | Links
Lithium — Lots of power, but are expensive and can't be recharged.
Lithium batteries can't be recharged. (I'm talking about household sizes like AA, AAA, etc.) They're also toxic and shouldn't be disposed of in the regular trash. That makes them impractical for most purposes. You should usually use NiMH batteries to get the rechargeable benefit, or alkalines if you need long shelf life (e.g., emergency flashlights). There are only two cases where lithiums have a clear advantage:
Smoke detectors. A 9V lithium battery in a smoke detector typically lasts 7-10 years. This is nice especially given that smoke detector batteries are bothersome to replace. And when you go through only one battery in a decade, rechargeability becomes less important.
Sub-freezing temperatures where long shelf-life is required. Alkalines are usually better when you need long shelf-life (e.g., emergency flashlights), but they don't work well in sub-freezing temperatures. NiMH batteries are fine in subfreezing temperatures (source), but they have a high self-discharge rate. So if you need batteries in subfreezing temperatures and you need really long shelf life, then lithiums might suit your needs. But they're still toxic and you still can't recharge them.
Don't confuse AA Lithiums with Lithium-Ion battery packs (like the kind that come with some cell phones and camcorders). Those Lithium-Ion packs ARE rechargeable, but only when they're installed in the device they're powering, or in a special charger. I don't know of any Lithium-Ions in household sizes (AA, AAA, etc.)
Best Batteries | Batteries Compared | Battery Types | Battery Tips | Chargers | Charging Tips | Links
Heavy Duty, & General Purpose (when no type is specified, it's one of these)
These are Zinc Chloride and Carbon Zinc, respectively. If a battery isn't specifically labeled something like Alkaline, Heavy Duty, or something else, then it's General Purpose. "Heavy Duty" is a big misnomer; both Heavy Duty and General Purpose are really "puny duty", and die quickly.
These two were the battery type of choice in the 70's, before alkalines were available. Even recently they were still popular because they used to be a lot cheaper than alkaline, even though they were puny. But these days, alkalines are close to the same price, so Heavy Duty and General Purpose are slowly becoming extinct, thankfully. (Why pay the same price for a wimpy battery when you could get an alkaline instead?) Radio Shack doesn't even sell them any more. Also, General Purpose aren't suitable for continuous use (only for intermittent use), and they're most susceptible to leaking.
The only redeeming value of Heavy Duty batteries is that they're supposedly less likely to leak than alkalines. So if you have an expensive device that you use infrequently, where you expect to be able to keep the same set of batteries in them for a long time, then Heavy Duty might be a little safer, even though the overall battery life is terrible.
These batteries are crap. Don't buy them.
_______________________________
FANCY FAUX GOLD AND SILVER FINISHES
By Mac Simmons
Pattern & Scrolled By BJ Holm
http://bjswoodcrafts.homestead.com
Inexpensive and Easy, This Technique Adds Value to Your Work
Of course, faux gold and silver finishes will never replace the look of real gold or silver finishes. But the costs of these materials are prohibitive and the next best thing, leafing, is time consuming to complete. With a colored metallic base coat, a glaze and a couple of clear coats, you can easily add a few extra dollars to the selling price. You can cut out the pattern for this classic Greek comedy-tragedy icon, faux finish it, and have yourself a sample you can show to potential customers. Once you try doing a few faux finishes you will see how easy they are to do, you will want to add this unique technique to your finishing arsenal. (The pattern is in the Fall 2001 issue of Scroll Saw Workshop magazine)
Spray on a Base Coat
Make sure that whatever material you'll be faux finishing is clean. A clean surface is critical to achieving good adhesion between the wood and your finishing materials. If the surface of the wood is too porous like open-grained woods, you may want to brush or spray on a coat or two of your choice of shellac, lacquer, varnish, polyurethane or acrylic.
For speed and convenience, I find gold and silver colored aerosols work very well for coloring and covering the wood's surface. If you prefer brushing instead of spraying, you can buy prepared liquid gold and silver coatings. You can make your own gold or silver basecoat with colored bronzing powders added to a clear acrylic, varnish or polyurethane. No matter which materials you select to use, be sure they are compatible with all the other materials you will be using for your work. A good way to ensure compatibility is to stay with the same category of coating: For example if you start with an acrylic-based coating, finish with an acrylic coating. Always test your materials first on samples, taking the process all the way to the end so you can work out any problems.
To create the base for your faux finish, lightly spray the aerosol to cover the wood; heavy coats are not needed. Then allow the coating to dry. I prefer spraying a clear coat to seal-in the sprayed gold or silver. This also adds body to the finish.
Colored Glazes
A colored glaze is a colored liquid that stays wet for various periods of time, depending on the materials used to make up the glaze. The working time of the glaze allows you to apply it and still have enough time to control and manipulate it to copy the characteristics of the material you want to duplicate. Glazes are sold by finishing supply companies. They come either as a clear glazing liquid where you add your own colorants, or they come already mixed in an assortment of colors. If you prefer you can make your own from scratch.
We will create and antique gold look with a Van Dyke brown glaze, and an antique silver look with black glaze. I highly recommend staying with the Van Dyke brown, but you can choose any variation of black. You can purchase glazes and the gold and silver aerosols from your finishing supplier or from your favorite art supply or craft store.
To apply the glaze, begin with a piece of clean cloth, folded into a ball. The size of the ball depends on the pieces you will be working on. Dip the cloth into the glaze, and then work the "pad" on some newspaper to evenly distribute the glaze on the front of the cloth. Begin lightly dabbing the cloth on the gold or silver, lightly pouncing and twisting the cloth to get a mottled look. When the cloth is dry, load it up again, and work it on the newspaper. Continue mottling and twisting until you have covered the piece. Do not over do the glaze by making it too dark. Allow some of the background color to show through. To soften the look of the glaze, use a clean cloth "dampened" with mineral spirits, and lightly mottle over the glaze, to achieve that soft, classic antique look of gold and silver. Once the glazing process is completed and allowed to dry, spray light clear coats to seal in the glaze, then allow it to dry.
Accentuating the Gold
To make the finish appear to be aged, select a red, green, or blue colorant, mix it with some mineral spirits, and brush it lightly on the edges, and along the sides. Lightly wipe the color with your fingertip until it's muted. Then apply another light clear coating to seal in these colors. Once it has dried, you can finish off your pieces with more clear topcoats.
A different look can be obtained by using a gold glaze over the brown sealed-in glaze or a silver glaze over the black one. You'll need a small amount of bronzing powder and a new cloth ball. Place a little powder on some newspaper, dip the cloth ball into the "coating" you will be using, then work it into the powder on the newspaper. Dab on the gold or silver glaze to create the mottling effect you made with the colored glaze. You can dab randomly on places, or do the entire piece to enrich the glazed metallic faux finish. If this glaze begins to dry out, you can rejuvenate it with a little mineral spirits.
With a little practice and patience, you should be able to make your scrolled work look like classic antique gold or silver pieces, and also increase your future custom-made orders. Give this unique pattern a try. Make up a few scrolled pieces with a few different faux gold or silver finishes, show them to your customers, and then get ready to start scrolling their orders.
Mac Simmons is a freelance writer, and a 50-year veteran of the furniture finishing, refinishing and restoration trades.
Mac has written many finishing articles for numerous woodworking magazines in the USA, in the United Kingdom, Australia, Canada, and Germany. Mac has 2 new finishing E-Books that are on CD's; they can be ordered on his web site. WWW.MACMOHAWK1@AOL.COM
_______________________________
The following is a Fine Woodworking article from the following link….
http://sn108w.snt108.mail.live.com/default.aspx?wa=wsignin1.0
FWW staff
The Unisaw, newly equipped with a riving knife to prevent kickback, came back with a bang in 2010. Says our reviewer, "It was hard to find anything wrong with the new Unisaw."Photo: FWW staff
---
Updated 1/17: Stanley Black & Decker has sold the Delta brand to a Taiwanese company, Chang Type Industrial Co., Ltd., which makes power tools for a number of well-known brands, including Craftsman, DeWalt, Ryobi, and Black & Decker. The new company has been renamed Delta Power Equipment Corp.
I spoke with the new CEO of Delta, Bryan Whiffen, about the deal and about the future of Delta woodworking tools. Whiffen is no stranger to power tools, having been in the field since 1994, most recently as the senior vice president for product development at Techtronic Industries North America (TTI). TTI makes Milwaukee, Ridgid, and Ryobi power tools.
Whiffens says he heard about Stanley's plans to sell Delta last year, after he'd left TTI. Eager to pursue a new opportunity, he put together a team to buy it.
In terms of manufacturing, there are no major changes afoot. Delta has long been known for making many of its tools here in the United States. But some tools and parts are made overseas. So far, according to Whiffen, that plan will not change. "Tools made in the U.S. will continue to be made here." But, he says, "outsourced tools will be made in the same factories as well." The corporate headquarters will be moved to Anderson, S.C.
After some disappointing offerings over the last few years, Delta seemed to be rebounding with gusto. A couple new tools FWW looked at last year—the updated Unisaw (FWW #207) and a new 18-in. drill press (FWW #216)—scored well in their respective reviews. Whiffen credits Stanly Black & Decker with reenergizing the Delta brand, moving it in "a positive direction," and his goal is to continue the surge.
Serious furniture makers will be happy to know that Delta has no plans to veer from their interests and needs. "We'll continue to focus the brand on woodworking machinery," says Whiffen. "We'll take a look at existing, older tools—both benchtop and stationary—and update them as we need to." And there likely will be some new offerings. Whiffen says a miter saw makes sense for the company, so we'll keep an eye out for that. With the hand machine expertise of Chang Type Industrial Co., Ltd.  I asked Whiffen if Delta would make the plunge into that market. As of now, there's no plan to jump into that market, but Whiffen won't rule it out for the future.
What about Stanley Black & Decker? So far, the only official statement from Stanley is that "certain assets related to the Delta brand were sold to Delta Power Equipment Corporation." But from the outside, it appears that Stanley Black & Decker is focusing on the DIY and contractor markets for their tools. That makes sense, because the company says it posted a great third quarter last year, with most of the profits coming from that market.
______________________________________________________________
Nov 112010
Local Man Carves into History with Declaration
By Kayleigh Karutis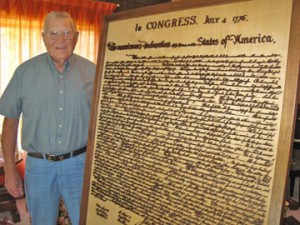 For most people, any goal or pursuit taken up 10 years ago is probably a long-gone memory.
But for Charlie Kested of Johnstown, NY, there's one thing that has been a constant in his life for the past 10 years. For the last decade, Kested has regularly sequestered himself away in his basement workshop, carefully carving, letter by letter, every single line of the Declaration of Independence out of dark walnut wood.
Times have changed. The popular music on the radio has evolved, as has fashion and television. Kested himself went through some changes, suffering a stroke that impaired his speech and his motor ability.
But throughout the years, the whirring of the blade of his scroll saw has remained constant, as has Kested's unfailing patience for his work.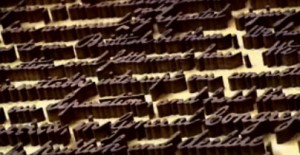 The massive piece, which is nearly as tall as Kested himself, was finally completed several months ago. It's an exact wood model of the Declaration of Independence, right down to the flourish of John Hancock's signature at the bottom. The dark walnut words are a stark contrast against the Baltic birch background.
It was a labor of love that Kested said he knew he would eventually complete. The time spent on the piece paid off, when he was awarded first place and best in show at the 2010 Florida State Fair.
The 81-year-old retired industrial arts teacher began experimenting in wood working when he was a child growing up in Fonda. Both his father and grandfather were accomplished woodworkers, he said.
"My grandfather had a lathe at home. I was maybe 10 when he got a box, stood me on it and put a tool in my hand. I did my first turn," he said.
From then on, Kested showed an interest and skill in woodworking. He went into the Navy in the 1950s, where he attended wood pattern making school. He worked for years making models out of wood that would then be used to make cast-iron products for the Navy before returning home and becoming a teacher in the Fonda-Fultonville Central School District.
He's made model medical prosthetics for replacement chins, noses and other body parts. He's replaced the dashboard of an old Rolls Royce, and has worked making quality-control models for a variety of applications. He was looking for a special challenge, though, and found it in the Declaration.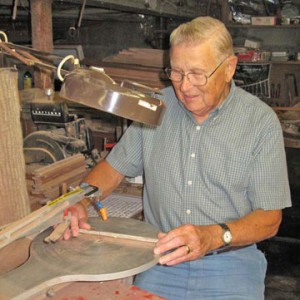 He started the Declaration of Independence in 2000 and worked on it, little by little, over the years until it was near completion. A stroke, though, less than a year ago put the project, and his life, in peril.
Luckily, Kested emerged from his ordeal far better than some others do. He can no longer feel any sensation in one hand, but is able to still use it and still has a strong grip. His speech is slower and he sometimes struggles to find words, but ultimately he's made a good recovery, he said. After some therapy he was able to resume work on his project, carving the final bits of punctuation and adhering them to the birch background.
He said he hopes his experience inspires others who deal with a similar issue.
"I feel really blessed. I want people to know that you can still do things, that they shouldn't give up, they should keep on going," he said.
Kested did keep on going, straight to the Florida State Fair earlier this year, where his piece attracted a lot of attention. Kested and his wife, Beverly, live in Florida during the winter months.
Peter Richardson, editor for the St. Petersburg Wood Crafters Guild in Florida, said the fellow woodworkers who saw Kested's piece at the state fair were amazed by it.
"They understand the amount of patience and attention to detail it requires," he said. "[Kested] is absolutely meticulous in his other pieces. [The Declaration of Independence piece] is so precise you can't believe they were made my hand."
Richardson called the piece "museum quality." He said Kested's stroke makes his accomplishment even more astonishing.
"It's amazing when you understand that his right side was paralyzed," he said. "He pushed and finished it and that alone deserved best of show."
Aside from his prize-winning Declaration, Kested is an accomplished woodworker whose made everything from grandfather clocks to ornate, minutely-detailed decorations to jewelry armoires. His home in Johnstown is full of his work, from the entire kitchen to the "love spoon" adorned with roses he carved for his wife.
Beverly Kested said she is constantly in awe of her husband's skill. She smiled as she warmly recalled when the pair first met while he was visiting the area to attend a wedding during his time in the Navy more than 50 years ago, and was eager to praise her partners accomplishments.
"He's won so many awards, it's unbelievable," she said. "I think [the Declaration] is the best I've ever seen. I think he's pretty special."
Charlie Kested said the Declaration itself is a piece of history that is near to his heart. The document, written mostly by Thomas Jefferson and signed on July 4, 1776, declared the 13 American colonies at war with Great Britain, were no longer ruled by Great Britain and were independent states. It contains one of the most well-recognized lines in American history: "We hold these truths to be self-evident, that all men are created equal, that they are endowed by their Creator with certain unalienable rights, that among these are life, liberty and the pursuit of happiness."
The Kested's said Charlie's work on the Declaration led them to learn more about the history of the document, which both called fascinating.
Now that it's finished, it will remain in the Kested family as a treasured heirloom, the pair said. Kested said he isn't taking a break from his woodworking now that his long-time project is finished. Next up, the Gettysburg Address. That piece, the pair said, will hopefully be ready for next year's state fair.
This article first appeared on July 4, 2010 in The Leader-Herald, a newspaper in Gloversville, New York.
_________________________________________________________
This isn't really a woodworking article, it is about an accessory that may be used in woodworking.
Recently I was playing on EBAY and found a great item that would be a great asset to your woodworking. The item is a photo studio that is in a kit. The kit consists of 1) light box 2) lights 3) camera stand 4) 4 different colored backdrops 5) carrying case .  The sizes of the lightbox varies from 12 inches square up to 5 feet square. These kits sell at camera stores from 89.00 up to 500.00.  I purchased a kit with the lightbox size of 24 x 24 inches with 3 lights for 52.00 from a A+++ seller. I would highly recommend one of these kits if you want to take quality pictures of your art.  Below is a picture of the kit that I bought.The official name for the kit is 'photo studio in a box'.
Click picture for larger view.
_________________________________________________________________________________________________________________
Refinishing Commandments                                 

By Mac Simmons
I. Thou shalt protect yourself at all times.
"Safety First" should be a motto for every refinisher and restorer — NO exceptions! Always wear protective clothing when stripping, sanding or spraying and religiously
wear goggles, gloves and respirators. It is far better to feel uncomfortable in the shop because of this gear than it is to incur a severe health problem down the line.

II. Thou shalt always read and carefully follow all directions.
The information on product labels is there for a reason: The recommendations have
been tested and are known to work. In addition, if you follow directions and still have problems, you will be better prepared to discuss a product's performance with your supplier. Information is power: Use it!

III. Thou shalt always scrub stripped furniture with a "wash solvent"
to remove any remaining residue of the old finish.
Any residue of stripper or the old finish remaining on the surface will reveal itself in the final finish as random glossy areas – and this residue usually doesn't show up until the coatings are applied!

IV. Thou shalt always allow wood to dry completely after stripping
before thou maketh any repairs or apply new finishing materials.
Wood that has been stripped must be allowed to stabilize with respect to relative humidy and the ambient temperature of your shop. Otherwise, changes in moisture content occuring after a repair has been completed, a stain has been added or a new finish has
been applied may result in failures or unsatisfactory results.

V. Thou shalt always complete all repairs before refinishing.
Finishing means just that. It makes little sense to apply colors, sealers and topcoats to pieces that have not been structurally repaired or that have surfaces that have not been properly prepared.
Fix nicks and scratches, replace veneer, fabricate and install missing parts – and do it all before you start working on color or building the finish!

VI. Thou shalt always select sandpaper of the proper grit for use
before staining or coating wood.
Abrasives with low grit designations can leave unwanted marks on wood and should be avoided. Also, be sure to progress through grit sizes from low (never lower than 100!)
to high (fine grit) as you prepare the wood surface for a new finish.

VII. Thou shalt always write dates of reciept
on all containers of finishing products.
Bad material won't work, so don't use it! Rotate your inventory and use the older containers first – and be sure not to use outdated material. Also, store your chemicals in clean, vented metal cabinets!

VIII. Thou shalt always thoroughly mix and strain liquids,
including all solvents and coatings.
Solidified particles of resin and pigments, for example, can cause severe problems in applying colors and topcoats. Mixing and straining will end up saving you time, materials and frustration.

IX. Thou shalt always allow stains and colorants to dry completely
before applying a sealer or topcoat.
Stains and other colorants that are not allowed to dry completely will behave the same as wet wood and can cause a variety of defects in the finish, including blushing, pinholes or softness.

X. Thou shalt sand every coat of sealer and topcoat
with 220-grit sandpaper – or higher.
If you're applying a glossy finish, you may want to go higher in grit rating: The finer the grit, the less the grit-abrasion patterns and the smoother the surface. Do it right, and light will reflect more brilliantly from what will be a more glossy surface.

XI. Thou shalt be sure to use compatible materials.
Many problems are caused when the products you use are not compatible with each other. Never assume that any two given products are compatible: Check them out and be sure if you want to avoid costly mismatches.

XII. Thou shalt always spray
from the bottom of a piece up, and from the front to the rear.
This helps to keep overspray from settling onto the work, thus saving you time, money and the need for recoating.

XIII. Thou shalt always give slower-drying solvents time to evaporate
from each coating before applying the next coat.
All reducers contain solvents that evaporate at different rates. These solvents can cause problems if they are trapped a coating. By allowing the slower-drying solvents time to fully evaporate, you can avoid unsightly bubbles or pinholes that may form.

XIV. Thou shalt always build a finish with gloss coatings, then top it off
with a material of lower sheen – satin, flat or dead flat.
If there's too much flattening agent in the sub-coats of the finish, it can cause problems. So if you apply satin or flat materials as subcoats, you must allow them to dry out completely so you can see their true sheen, as they will become duller as they dry out. Using gloss materials as sub-coats and then flattening the finish with the topcoat is simpler, presents fewer problems and offers you more control over the final appearance.

XV. Thou shalt always allow enough drying time
before sanding between coats.
The longer you let the coating dry before hitting it with an abrasive,
the less trouble you'll have.
As coatings harden, they become easier to sand, rub out or compound.

XVI. Thou shalt always remember that
two Thin coats are better than one thick coat.
Thin coats dry much faster than do heavy ones, so you'll experience far less trouble
with runs, sagging and bridging if you work with multiple thin coats
and allow each coat to dry before applying a new one.

XVII. Thou shalt always keep containers of finishing material
closed and sealed when they are not in use.
Evaporation and oxidation will steal your chemicals if the cans are left open.
Also, humidity or moisture can contaminate these materials if they are exposed
to ambient air for extended periods.

XVIII. Thou shalt always keep thy shop and equipment clean.
It's hard to make a clean finish in a dirty shop: Dust and other airborne contaminates
will ruin the best work by the best refinisher. As a result, you should routinely clean your spray guns, pots and spray booth, not to mention your brushes, saws, tools, benches, floors and stripping area. Time invested today in cleanliness will pay great dividents in everyday productivity – and in your health and your shop's image.

XIX. Thou shalt always bleed and drain your air compressor
and airlines as part of routine preventive maintenance.
Doing so will prevent many finishing problems – mainly moisture contamination
of your coatings that can result from the formation of condensation in the air lines.

XX. Thou shalt always deliver refinished or restored pieces to the customer only after the finish is completely dry.
It's only common sense: Don't move a piece with a finish that is not yet dry!
Also, be sure to let the customer know when it'll be safe to place objects
on top of their furniture and advise them on basic maintenance.
***************************************************************************************************************
IS THERE DANGER IN THE WOODS YOUR WORKING
BY MAC SIMMONS
Unless you have read, or were told about the actual danger in some woods, chances are you probably never gave it one thought. Well, you're certainly not alone, because a good number of woodworkers and finishers don't know about the dangers that do exist in the some woods. It's a known fact that most woodworkers only find out about the toxins, irritants, and sensitizers in many woods after they, or someone that they know has had a minor or major reaction while handling or working with certain species of woods.
My main objective for writing this article about the dangers in the woods, is not to alarm you, but to alert you and to make you more aware of the risks involved whenever you are handling, cutting, turning, scrolling, sanding, routing, and assembling your woods.
There are many articles written about the hazardous chemicals used in the finishing process of woods. These needed articles tell you about all the problems of working with these dangerous chemicals. Many of the health conditions allegedly caused by the chemicals might have the same reactions caused by some woods. It is very easy to blame the chemicals when, in fact, it may have been the woods that you were working or handled that may be causing the illnesses, reactions, and conditions.
Adverse effects may occur to you the first time you work with certain wood; in other cases the reaction may not occur until after longer exposures. The reaction may be very subtle, and you may not even be aware of the reaction happening. In some cases the body will build up its own defenses and the reactions may not be as severe. In other cases, it maybe a fast build up or a slow accumulative amount of toxins that will exceed the body's threshold which will cause the severe and dangerous toxic reactions. (See the toxic wood list) While some woodworkers may work with woods and never have any reactions, while others may have a reaction from just touching the same species of wood for first time. Reactions can happen from inhaling the sawdust or from the sawdust settling on your skin.
SOFT, HARD, AND EXOTIC WOODS
When one considers the differences between the softwoods, hardwoods, and the exotic woods, the sawdust from the hardwoods and especially the exotic species, are sensitizes and can cause acute allergic skin reactions, eye inflammation, hay fever, asthma, coughing, and respiratory diseases. Highly toxic species including the giant sequoia, hemlock, yews, cypress, cork oak and other oaks, beech, rosewoods, some maples, redwoods, and western red cedar woods.
The softwoods do not cause a high frequency of skin or respiratory problems, although there are some individuals who will develop allergic reactions to various softwoods. The causes of the reactions maybe coming from the wood, sawdust, leaves, or the bark of the trees. Additional care must be taken when the sap is present in most green woods, as they can cause skin allergies and irritations from direct contact.
REACTIONS
The minor or major reactions to certain woods can include pneumonitis alveolotis (hypersensitivity pneumonia); permanent scarring of the lungs (fibrosis), salivation, thirst, giddiness, nausea, dizziness, irregular heartbeats, skin rashes, eye and respiratory system problems, cardiac conditions, and malaise. Test and studies are still "on going", linking wood dust with nasal cancer and many other negative health conditions.
The toxic chart shows some woods that have toxins, sensitizers, and irritants. This list of toxic woods is not intended to stop you from using any of these species of woods; it is only to inform and alert you to the risk of working these woods, and so you can take the proper precautions.
Caution and care must be taken when working with plywood, composition board or other materials that contain chemicals like urea-formaldehyde, phenol-formaldehyde resin glues, and wood preservatives like the CCA
(Chromate/Copper/Arsenate), creosote, zinc, copper napthenate and other chemically treated woods including the interior and exterior fire retardant treated woods.
IT'S ALL ABOUT PREVENTION
Being aware of the potential dangers in the woods and taking the steps toward reducing your risks should be your final goal to good health.
Its all starts with learning to respect the woods you may work, and then always wear the "personal protective gear", that is the key to protecting yourself against the dangers in the woods your working.
Starts with a head covering, like a soft baseball cap, for your eyes, use protective glasses or goggles, and a clear facemask, whenever they are needed. Be sure to use a good dust mask or a respirator that has been approved by NIOSHA (National Institute for Occupational Safety and Health). You should wear a work jacket or shop coat to protect your body and arms, and a pair of gloves to protect your hands. A good dust collection system suited for your workshop can be a good investment towards your good health. Your protective gear should be worn whenever you are emptying the sawdust from your saws, sanders, lathes, joiners, and collectors. Always wash your hands after working with, or handling any woods.
Counsel other fellow woodworkers about the dangers in the woods whenever you are teaching your craft to those new to woodworking. As always, you start with safety, and then begin discussing how they can protect themselves against the potential risk from certain woods that can affect their good health in the future. Teach them to have the same respect for the woods that they work, as they do for the power tools, and the hazardous chemicals that they use in their shops.
Cut out the list of toxic woods, as a reference and reminder, and hang it up in your shop.
**********************************************************************************

Mac Simmons is a freelance writer, and a 50-year veteran of the furniture finishing, refinishing and restoration trades. Mac has written many finishing articles for woodworking magazines in the USA, United Kingdom, Australia, Canada, and Germany. Mac, now has 2 new finishing E-Books on CD's, the price is $ 29.95 @ including P&H. you can mail your check to Mac Simmons PO Box 121 Massapequa, N.Y. 11758. You can visit Mac's web site – at www.macsimmons.com
You can also order my two CD's on my web site using PayPal
____________________________________________________________________________________________________________________________